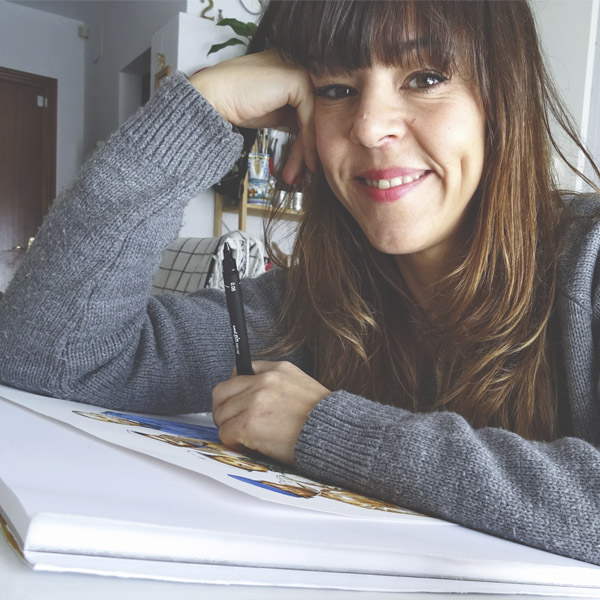 Ana Langeheldt (known by Lahe178 in the field of urban art since 2001).Vocational artist from a very young age, graduated in Fine Arts by the University of Seville in 2003. She studied the specialty of design and engraving, and since then she has completed her training with specialized courses and seminars.
Her work is focused on mural painting (or urban art), illustration and painting. Seville is one of its main sources of inspiration where lives and works.
She has numerous works in important companies and brands such as the Seville European Film Festival, ICAS Culture in Seville, Turner Broadcasting System, Freixenet, Endesa or Anaya among many others.
At the exhibition level, she has participated in different individual projects, as well as in numerous exhibitions inside and outside our country (Montana Gallery Barcelona, ​​SC Gallery Bilbao, Meeting of Styles France, Void Projects Miami, Caixa Forum Sevilla, B-Murals Barcelona, ​​etc).
Throughout his career she has received different awards from different artistic competitions, it is worth mentioning the Diploma of Honor "LI Autumn Exhibition, Royal Academy of Fine Arts of Santa Isabel de Hungary" (Seville), received in 2003, among others ; as well as cited in various international publications such as Graffiti Women (Editorial GG,  Montana World , Mural Art Vol. 3 (Editorial Carpe Diem, Greece), Urban Art Boom, Rolling Stones, La Muy ,  Boooooom ,  Ah! Magazine and more.
Presentation video
In the media
Works for sale
WORKS OF INTEREST
Mural Paintings